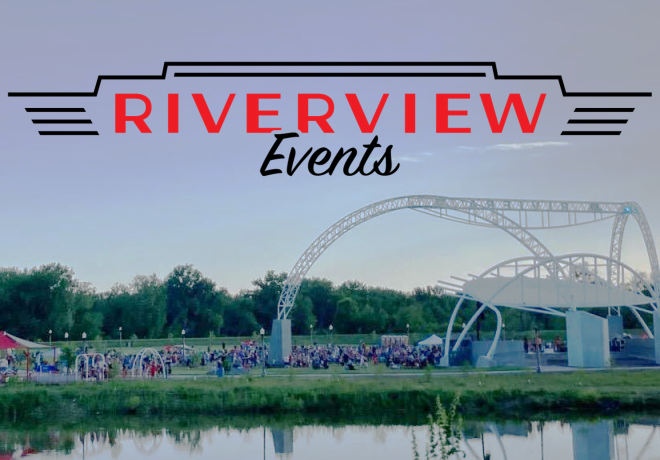 https://www.riverviewevents.org/
Every Friday in June and July, we are bringing live music back to Riverview Park where we will showcase a variety of local bands.
Celebrate the 14th year of free music with Rendezvous on Riverview (RoR) sponsored by Confluence Brewing Company. This annual event is family friendly and free every Friday in June and July from 5:30-9:30pm.
Rendezvous on Riverview will be presented on the new Prairie Meadows Riviera Stage again this year with concession stand and food trucks on site for all food and beverages. Attendees are encouraged to bring chairs and blankets, but no outside food or beverages.
RoR 2022 Free Concert Series Line-Up
6/3 – Faculty Lounge Funkband
6/10 – Fahrenheit
6/17 – Brother Trucker
6/24 – Avey Grouws Band
7/1 – Standing Hampton + FIREWORKS
7/8 – The Sons of Gladys Kravitz
7/15 – Final Mix
7/22 – Malcom Wells and the Two Timers – Blues Society
7/29 – Flying Solos with Brian Congdon
2022 Food Trucks
6/3 – Ruby B's Kitchen & Catering, Dudley's Carnival, El Salvador del Mundo, Gusto
6/10 – Ruby B's Kitchen & Catering, Dudley's Carnival, El Salvador del Mundo
6/17 – Ruby B's Kitchen & Catering, Dudley's Carnival, El Salvador del Mundo, Los Primos Grill
6/24 – Ruby B's Kitchen & Catering, Dudley's Carnival, El Salvador del Mundo, Los Primos Grill
7/1 – Ruby B's Kitchen & Catering, Dudley's Carnival, El Salvador del Mundo, Los Primos Grill
7/8 – Ruby B's Kitchen & Catering, Dudley's Carnival, El Salvador del Mundo
7/15 – Ruby B's Kitchen & Catering, Dudley's Carnival, El Salvador del Mundo, Los Primos Grill
7/22 – Ruby B's Kitchen & Catering, Dudley's Carnival, El Salvador del Mundo
7/29 – Ruby B's Kitchen & Catering, Dudley's Carnival, El Salvador del Mundo