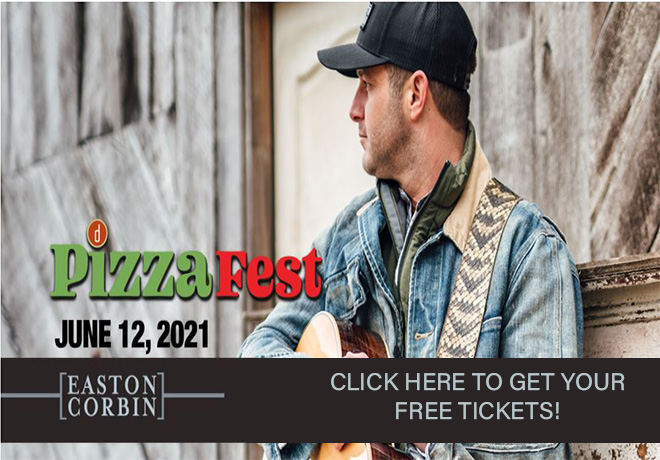 See Easton Corbin for FREE at Pizza Fest on June 12, 2021! It's the 5th annual celebration of that cheesy goodness we all know and love. Listen to music, toss some dough, and of course try some of the best pizzas in Iowa. It's food AND fun for the whole family!  Reserve your FREE ticket here!
Open up for Easton Corbin, award winning singer "A Little More Country Than That" or "Roll With It," is Jason Brown, Tank Anthony Band, and Randy Burk & The Prisoners. So no matter what time you arrive it will be a day packed with fun.
2021 Pizza Fest 🍕
Saturday, June 12th | 4pm – 11pm
Town Square Park | The District at Prairie Trail
1500 SW Main Street, Ankeny
Pizza Fest Contests!
Best of the Fest Pizza Contest
Pizza vendors will be trying to win your votes to be named the Best of the Fest 2021. When you enter the gate, you will receive tickets to vote for your choice! Try a $3 entry sample and be the judge!
Best Pizza-like Creation
Restaurants and food trucks will be here too. They will each have a pizza-creation of their specialty. Anyone for pizza ice-cream? Try a sample and vote with your tickets.
Pizza Eating Contest
It's a crowd favorite! Limited to 20 participants.
Kid's Dough Tossing Contest
Kids age 5-10 can compete in the Dough Tossing Contest. You'll get a fancy chef's apron and winners will advance for a chance at 3 awesome prizes. Limited to 20 participants.
Pizza Box Folding Contest
Kids age 8 – 12 can compete in the Pizza Box Folding Contest. Winners will be those who fold their boxes in record time and meet the judges' approval for box-folding excellence. Limited to 20 participants.
All participants will need to register in advance. Watch our social media Pizza Fest info for how to signup.