Sweet Deal Ticket Tuesday RiseFest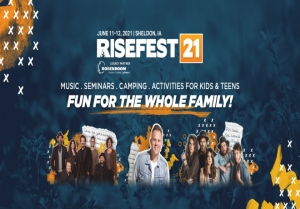 Sweet Deal Ticket Tuesday 
Get a 2 day General Admission pass, a $40 value, for just $20!
In a few short weeks, it will be time for Rise Fest 2021. Rise Fest is Iowa's premier Christian music festival, with featured speakers, seminars, and break out areas for kids and teens…and camping! Rise Fest 2021 in Sheldon, Iowa is June 11 and 12! Rise Fest featuring performances by Casting Crowns and Matthew West, along with Zach Williams, Big Daddy Weave, We the Kingdom and more! Rise Fest is an excellent family bonding weekend, and kids ten and under are free! Find all the details at riseministries.com. Rise Fest is this week's Ticket Tuesday Sweet Deal! Starting this Tuesday, log on at 9 AM and purchase two day general admission passes to Rise Fest at half price, just $20! That's a sweet deal!
Get them here sweetdeals.com/…s-moines/9008643-risefest this Tuesday at 9 AM!