Sweet Deal Ticket Tuesday The Renaissance Faire at Sleepy Hollow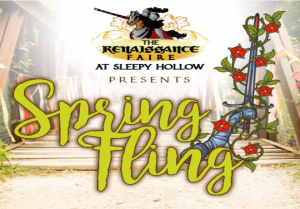 Sweet Deal Ticket Tuesday
The Renaissance Faire at Sleepy Hollow presents Spring Fling
Get two weekend passes and two parking passes for only $24!
Purchase tickets at sweetdeals.com/…/9008323-sleepy-hollow-sports-park starting Tuesday morning at 9AM! 
The Renaissance Faire at Sleepy Hollow in Des Moines, IA is a magical experience for both young and old. Join us Weekend One, May 8th and 9th, 2021 For the Gathering of the Sails, Pirates, Pirates, and more Pirates. All the great Renaissance Faire entertainment with a pirate flair.
Avast ye buckos! Hoist your Jolly Roger, weigh anchor and set sail for the Renaissance Spring Fling, the new spring event at Sleepy Hollow in May. This family friendly event takes place in the Renaissance Park at Sleepy Hollow which has been overrun by scurvy Pirate Captains and their motley crews. They will be competing for the title of Pirate King (or Queen). They can't win on their own, so they will be vying for your allegiance. Choose wisely so you don't become shark bait. 7 stages of the best swashbuckling entertainment, pirate quests, games of skill, shops with serious pirate booty, grub for all you seafarers and Yo Ho Ho there will be Rum and Grog. Plus a party after the party, RAD (Renaissance After Dark) entertainment for adults only after regular hours party.
Weekend Two May 15th and 16th 2021 – Gathering of Clans an event for those who love "shenanigans" A Renaissance Faire with more Celtic music, more Celtic dancing, more Guinness, and more highland games than you can shake a shillelagh at. Plus all your favorite Renaissance Faire fun including 7 stages of entertainment, games of skill, shops with all types of wares, delicious food and of course Irish Whisky and many more choices. Plus a party after the party. RAD (Renaissance After Dark) entertainment for adults only after regular hours party. More Information – sleepyhollowevents.com
Family Friendly entertainment during the day. After hours party for the adults. For more Information on Renfaire After Dark visit www.renparkafterdark.com.
Taking Part: There are many ways to enjoy the Renaissance Faire and many things to do. From the moment you approach the bridge and cross over into their little village, the street characters, stage performers, and even their vendors are excited to interact with you! Feel free to play along and be part of the world. You can watch a full contact joust, play with fairies, hang with the pirates, observe artisans at work, participate in games of skill and chance, and enjoy performances at any of their 7 stages on the grounds.
Dressing up? Coming in costume is always welcome but not required. Please feel free to come as you are, a modern time traveler to the middle ages. Or join us in costume if you prefer. Their performers welcome all comers from any time period to be an integral part of the excitement their village has to offer. We welcome costumes of all kinds, we all know this is fantasy don't we, so come on in. If you do choose to dress up please be sure to read their Policies regarding weaponry!
Shopping: Browse through more than 50 specialty shops. Bring a purse full of coin (all accept paper, some may accept plastic), for their merchants offer the finest in jewelry, weaponry, leather goods, candles, clothing, children's items, chocolates, poetry and more. If you are a newcomer to Renaissance Fairies and would like to be able to come in costume the next day their vendor and crafts people have many options to offer and many take custom orders as well. A list of this years vendors can be found at www.sleepyhollowrenfaire.com.
Food: From Turkey Legs to vegetarian friendly soup in a bread bowl. Check out Poutine. You can order the standard, Greek or Verde. Come hungry! their selections from around the world will delight even the pickiest eater. We offer vegan and gluten free menu items. You can see a list of all their food vendors at www.sleepyhollowrenfaire.com.
Helpful hints for your first time: Front gate tickets are cash only, but you can purchase them online as well. An ATM is located at the front gate for your convenience. While this is a family event, there are many styles of shows ranging from children oriented to ones with adult themes. If you are unsure if a show would be appropriate, please ask a performer about it. Pets are welcome, but they will need to be on a leash, and you will need to show proof of rabies vaccination.
Be sure to read their Policies so you know what is and is not allowed in Castle Park.
11am-7pm, Rain or Shine! May 8th and 9th May 15th and 16th
Sleepy Hollow Sports Park
4051 Dean Avenue Des Moines, IA 50317
May 8th and 9th
May 15th and 16th